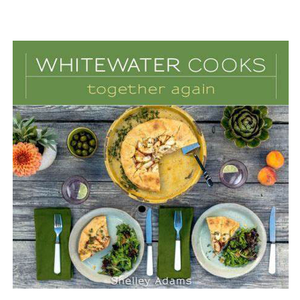 Whitewater Cooks Together Again
Regular price
$36.95
$0.00
Unit price
per
by Shelley Adams 
Once again, Shelley Adams demonstrates her skills in elevating simple ingredients to new, wonderfully delicious heights. In this new book, Shelley continues her innate ability to take easily sourced fresh foods - coaxed expertly with fresh herbs, creative seasonings and cooking techniques - to result in recipes cooks will want to return to time and time again.
The Whitewater cookbook series has sold over 200,000 copies – a testament to Shelley's incredible skill set and the legion of fans who have followed her recipes for their reliability, ease of preparation and mouth watering results. The gorgeous photographs in these books perfectly balance visual elements with luscious dishes – and lend inspiration to the creation of a whole new set of successful home cooks.
Says Shelley: "The new book is all about even more delicious recipes. I was inspired by cooking at home over the past months and thinking with anticipation about being able to  get together again. I was also inspired by my son, Conner, who stayed with us in Nelson for a time - his creativity and cooking techniques were impressive. I am super excited about the recipes for this new book and believe they are my best collection yet!"
About the author: Shelley Adams and her husband, Mike, ran the Fresh Tracks Café at Whitewater Ski Resort where the skiers were constantly asking for the recipes. So she decided to write a cookbook. After Whitewater Cooks, Pure, Simple and Real was published, she thought that her career as a cookbook author would be over. But out-of-town fans and Nelsonites thought differently and were again asking when a second book was coming. And so was created, the second book, Whitewater Cooks at Home. However, over a great dinner in the fall of 2011, Shelley's daughter, Ali, and her very enthusiastic friend Margie reminded her of her mantra… "Great recipes are meant to be shared!" So the result of the dinner that fall was another year of recipe collecting, tweaking and testing and became Whitewater Cooks with Friends.   
What all of these books have in common is that show that cooking great meals doesn't have to be time consuming or complicated and you don't need to be a trained chef to make fabulous, healthy and delicious food. All of the recipes can be prepared with ingredients that are in our fridges and cupboards and can be made in a short amount of time if you have done a little bit of planning and preparation beforehand. When Shelley started Fresh Tracks Café
, she had no idea that it would lead to FIVE cookbooks. She has loved creating these books and hopes that you get as much joy from these recipes as did her family, friends and she did. For Shelley cooking is a way of life and celebrating her belief that every day is a BONUS! 
---
Share this Product
---