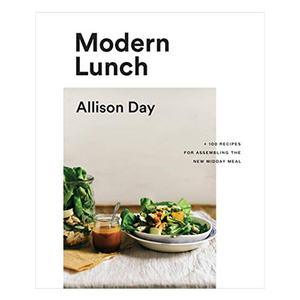 Modern Lunch: +100 Receipes for Assembling the New Midday Meal
Regular price
$29.95
$0.00
Unit price
per
by Allison Day

From Allison Day, the acclaimed cookbook author and award-winning blogger behind Yummy Beet, comes Modern Lunch: a collection of over 100 original, plant-forward recipes that celebrate the midday meal.

TASTE CANADA AWARDS SILVER WINNER

Modern Lunch is the new lunchtime hero for time-strapped, budget-conscious, and salad-fatigued people everywhere. Focusing on healthy, quick--and, yes, Instagrammable--recipes with minimal effort, Allison takes readers on a feasting journey inspired by fresh flavors and ingredients, and her travels.

Meals in jars and adult-appropriate lunchboxes will actually make you look forward to lunch now, especially when recipes like Chicken and Cucumber Ribbon Salad with Peanut Butter Vinaigrette, Tomato Sourdough Soup with Cacio e Pepe Socca Triangles, and Walnut-Crusted Avocado, Feta, and Eggs with Pesto Rice are waiting for you. Find inspiration for delicious lunches to eat at home, too, like Greek Chopped Salad with Crispy Peppercorn Salmon, and a new take on the classic ploughman's lunch. Spend weekends with friends gathered around easy-to-assemble platters and picnic baskets, and enjoy homemade brunches that rival any restaurant's. And, if you're someone who likes to improvise, Allison shares her staple recipes and tried-and-tested strategies for mastering meal prep, as well as ideas and combinations for quick, on-the-fly lunches that encourage creativity but promise satisfaction--even if you have to dine at your desk.

With dazzling recipes and photography, and smart tips on hacking the lunchtime game, Modern Lunch proves that a delicious, exciting, and inventive lunch can be achievable for any appetite, wallet, and busy schedule--and maybe even spark a little office envy.
About the Author:  Allison Day is a bestselling author, recipe developer, writer, editor, and food stylist. She has written two other cookbooks, including the award-winning Whole Bowls. She shares more recipes, writing, and work on HiAllisonDay.com and YummyBeet.com. She has been featured in and contributed to The New York Times, Bon Appétit, New York Magazine, The Globe and Mail, Food Network Canada, SHAPE, and more. Allison lives in Dundas, Ontario, Canada with her partner and their son. 
---
Share this Product
---