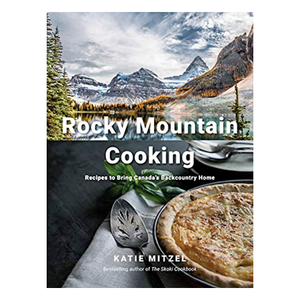 Rocky Mountain Cooking: Recipes to Bring Canada's Backcountry Home
Regular price
$30.00
$0.00
Unit price
per
by Katie Mitzel
Embrace backcountry living at home with these delicious recipes inspired by life in the Rocky Mountains, from celebrated backcountry chef Katie Mitzel, bestselling author of The Skoki Cookbook.

Nestled in and around the Rocky Mountains are a series of remote backcountry lodges offering the experience of a lifetime. Katie Mitzel has spent the last twenty years as a chef in these lodges, joyfully feeding hungry travelers who have journeyed hundreds of miles to have their own backcountry adventures. Whether you're wilderness hiking, off-piste skiing, or simply relaxing, the backcountry offers total immersion in the stunning mountains, coupled with the allure of completely unplugging from daily life.

In Rocky Mountain Cooking, Katie shares her favourite lodge recipes, many taking inspiration from the colours and textures of mountains, glacial lakes, wildflowers, and starry nights. Her dishes are full of unexpected flavours and mouthwatering aromas, but are accessible enough to create at home, using ingredients readily available from the grocery store (brought into the backcountry for her on horseback or by snowmobile or helicopter!). Cooking in the backcountry has brought Katie unique moments of inspiration and gratitude, like carefully adjusting ingredients when baking at altitude, and appreciating the simple benefits of water and heat after manually hauling water by the gallon and cooking without power. As a result, her food is simple, fulfilling, hearty, and comforting.

Start your day with Skillet-Baked Huevos Rancheros. Enjoy a hearty Summer Hiking Salad after a long trek or busy workday. Snack on some Climbers' Cookies at the top of a ski run. Then indulge in Baked Halibut with Scallops and Asparagus, along with a slice of Lemony Lavender Buttermilk Cake for dessert. All of the recipes are perfect for gathering your family and friends around the table to share a meal, hear the stories from your outdoor adventures, and maybe plan your next.

Filled with breathtaking landscape photography and profiles of select beloved lodges, Rocky Mountain Cooking brings the natural bliss of backcountry living into your daily life, no matter where you live.
About the author: Katie Mitzel is the author of the bestselling Skoki Cookbook. She has cooked in many backcountry lodges, including Skoki Lodge, Battle Abbey, Mistaya, Assiniboine, and Shadow Lake Lodge, among others, and has developed a reputation as an innovative, creative, and enthusiastic backcountry lodge chef. When not at a lodge, Katie lives with her family in British Columbia, at the doorstep of one of North America's greatest outdoor playgrounds.
---
Share this Product
---