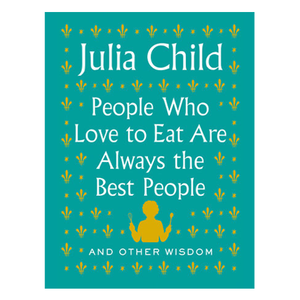 People Who Love to Eat Are Always the Best People
Regular price
$24.95
$0.00
Unit price
per
by Julia Child
A charming, giftable collection of the beloved, best-selling author's inimitable quotes--her words of wisdom on love, life, and, of course, food.

"If you're afraid of butter, use cream." So decrees Julia Child, the legendary culinary authority and cookbook author who taught America how to cook--and how to eat. This delightful volume of quotations compiles some of Julia's most memorable lines on eating--"The only time to eat diet food is while you're waiting for the steak to cook"--on drinking, on life--"I think every woman should have a blowtorch"--on love, travel, France, and much more. Perfect for Julia fans, home cooks, and anyone who simply loves to eat and drink. 
About the Author: Julia Child was a famous American cook, author, and television personality who introduced French cuisine and cooking techniques to the American mainstream through her many cookbooks and television programs. Her most famous works are the 1961 cookbook Mastering the Art of French Cooking and, showcasing her sui generis television persona, the series The French Chef, which premiered in 1963.
---
Share this Product
---