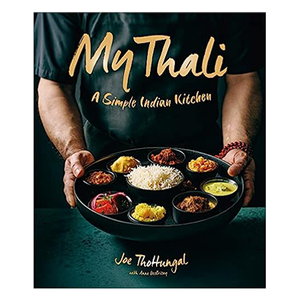 My Thali: A Simple Indian Kitchen
Regular price
$38.95
$0.00
Unit price
per
by Joe Thottungal

The Coconut Lagoon chef brings the vibrant everyday flavours of South India to home kitchens.

Like a tagine or casserole, a thali describes not only a type of kitchenware, but a type of meal. A thali is constructed of many small dishes served on a platter that harmonize through contrasting textures, visual appeal, complimentary spices, and sheer deliciousness. Once reserved for special occasions, this traditional way of eating is now a popular way of dining at home.

In My Thali, award-winning chef and author Joe Thottungal shares his favourite home-cooked recipes and stories from his homeland of Kerala, connecting past and present in the world of Indian cooking today. This exploration of food heritage features a collection of 85 signature recipes - from simple raitas to nourishing dals and fragrant curries - that can be easily re-created at home, using accessible ingredients and everyday cooking equipment, and without any compromise to flavour or authenticity. Each recipe can be enjoyed on its own or joined together to compose a complete and balanced meal; suggested menus are included for constructing these "feasts on a plate."

My Thali celebrates the South Indian cooking and the joys of thalis, both simple and homey, and grand and glorious.
About the Author:  Joe Thottungal is a Canadian chef and the owner of the restaurants Coconut Lagoon and Thali in Ottawa. Joe was born in Kerala, trained in Mumbai, and worked in the Middle East before moving to Canada, where he earned his Certified Chef de Cuisine (CCC) designation. In 2008, Joe was named Ottawa Chef of the Year by the Canadian Culinary Federation. In 2016, he won the top prize at Ottawa's Gold Medal Plates competition, followed by a silver medal at the 2017 Canadian Culinary Championships.

His first cookbook, Coconut Lagoon, celebrated regional south Indian cuisine and won the gold at Taste Canada Awards in 2020. Joe lives in Ottawa with his wife and three children.
---
Share this Product
---