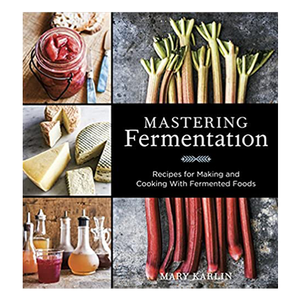 Mastering Fermentation - Recipes for Making and Cooking with Fermented Foods
Regular price
$34.95
$0.00
Unit price
per
by Mary Karlin
Delve into these pages to get a taste of the breadth of fermented foods and beverages, along with helpful guidelines and delicious, doable recipes.
Fermentation is one of the oldest forms of food preservation, dating back to prehistoric times. The current interest in making fermented foods at home is a growing trend, not a fad. It is a return to real food; food with substantive flavour and nutritional value. As with other forms of preservation, fermentation allows for extended periods of storage before the food needs to be consumed. The usability of the food is extended beyond its natural season in a raw state. As a bonus, fermented foods taste better and are better for us than processed or even pasteurized foods. Many ready-made foods have been robbed of their naturally-occurring beneficial microorganisms by pasteurization and some high-temperature processes such as ultra-pasteurization. It is important to know that not all bacteria are bad for us. Fermented foods are probiotic; alive with beneficial organisms that contribute to our digestive and therefore overall health.
About the author: Mary Karlin is a passionate cook, cooking teacher, cookbook author, and freelance food writer. She was a founding staff member at the award-winning Ramekins Culinary School in Sonoma, CA, where she has taught wood-fired cooking, cheese making, fermentation, and Mediterranean-themed cooking classes for more than ten years. Mary is also a guest instructor at The Fork at Point Reyes Farmstead Cheese in Point Reyes, CA, and The Cheese School of San Francisco, as well as at other prominent culinary venues around the United States. Mary is the author of two previous acclaimed cookbooks: Wood-Fired Cooking (2009) and Artisan Cheese Making at Home (2011). When not teaching, Mary splits her time between Northern California and Arizona.
---
Share this Product
---