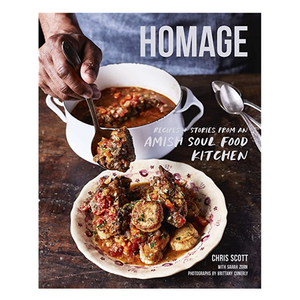 Homage: Recipes & Stories from an Amish Soul Food Kitchen
Regular price
$52.00
$0.00
Unit price
per
by Chris Scott with Sarah Zorn

In Homage, Chris Scott tells the remarkable story of his family over seven generations via comforting dishes and vivid narratives: From his enslaved ancestors to his great-grandfather, who migrated to Pennsylvania after the Emancipation Proclamation, to his own childhood in Amish country, and, ultimately, his successful restaurant career in Philadelphia and New York City.

In this tribute to those who came before him, Chris Scott shares 100 dishes born of a unique blend of Southern, German, and Dutch cuisines, including Chicken Fried Steak with Sassafras Country Gravy, Charred Radicchio Salad with Roasted Grapes and Shaved Amish Cheddar, and the ultimate Whoopie Pies.

Stunning photography evokes the rich history of these distinct cultures. Homage is a must-have for home cooks who love Jubilee and Carla Hall, who enjoy soul flavors or Midwestern food, or who are drawn to cookbooks with vivid storytelling, a sense of place, and a new point of view.

Unexplored Foodway: One of the many unexplored foodways in the African diaspora, Amish soul food is a novel cuisine in the publishing world.

Homage is a celebration of Black culture and food, and an exploration of a culinary region—one that has never before been highlighted in a cookbook.

…And yet this is famous cuisine: The Great Migration from the South in the decades following the Civil War, combined with the strong influence of Dutch, German, and Scandinavian settlers over a wide swath of the United States, from New York and Pennsylvania deep into the Midwestern states, makes the recipes in the book new variations of familiar dishes. From collard greens to spätzle, country fried steak to German chocolate donuts, this is recognizable, delicious food that will resonate with anyone who enjoys Southern, soul, and German, Dutch, or Scandinavian cuisine.

Perfect for:
Fans of Chris Scott from his stint on 

Top Chef

 or via his restaurants in Brooklyn and NYC

Fans of soul food, Southern food, and/or German/Dutch food

Those looking for elevated comfort food

Foodies who collect regional or narrative cookbooks rich with history and visuals

People who bought Notes from a Young Black Chef, Soul, or Victuals
About the Authors: Chris Scott is a New York–based chef and the previous owner of Brooklyn Commune and Butterfunk Kitchen, both in Brooklyn, as well as Birdman Juke Joint in Bridgeport, CT, which celebrates Black farmers and agriculture. He is the current owner of Butterfunk Biscuit, which highlights heritage baking at its finest. He was also a finalist on Top Chef, season 15. He lives in New Jersey with his family.
 
Sarah Zorn is a food writer and editor, as well as the co-author of Sunday Best and Levant. She was the recipe tester for The Nom Wah Cookbook and Xi'an Famous Foods: The Cuisine of Western China, from New York's Favorite Noodle Shop, and the author of Brooklyn Chef's Table: Extraordinary Recipes from Coney Island to Brooklyn Heights.
---
Share this Product
---