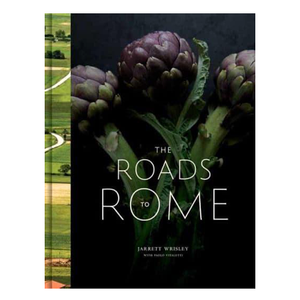 The Roads to Rome
Regular price
$54.00
$0.00
Unit price
per
by Jarrett Wrisley and Paolo Vitaletti

IACP AWARD FINALIST • An epic, exquisitely photographed road trip through the Italian countryside, exploring the ancient traditions, master artisans, and over 80 storied recipes that built the iconic cuisine of Rome

When former food writer Jarrett Wrisley and chef Paolo Vitaletti decided to open an Italian restaurant, they didn't just take a trip to Rome. They spent years crisscrossing the surrounding countryside, eating, drinking, and traveling down whatever road they felt like taking. Only after they opened Appia, an authentic Roman trattoria in Bangkok of all places, did they realize that their epic journey had all the makings of a book. So they went back. And this time, they took a photographer.
 
Roman cuisine doesn't come from Rome, exactly, but from the roads to Rome—the trade routes that brought foods from all over Italy to the capital. In The Roads to Rome, Jarrett and Paolo weave their way between Roman kitchens and through the countryside of Lazio, Umbria, and Emilia-Romagna, meeting farmers and artisans and learning about the origins of the ingredients that gave rise to such iconic dishes as pasta Cacio e Pepe and Spaghetti all'Amatriciana. They go straight to source of the beloved dishes of the countryside, highlighting recipes for everything from Vignarola bursting with sautéed artichokes, fava beans, and spring peas with guanciale to Porchetta made with crisp-roasted pork belly and loin.
 
Five years in the making, part-cookbook and part-travelogue, The Roads to Rome is an ode to the butchers, fishermen, and other artisans who feed the city, and how their history and culture come to the plate.
About the Authors: Jarrett Wrisley
is a food writer-turned-restaurateur living in Bangkok. He has written for
The Atlantic
,
Lucky Peach
,
The Art of Eating
,
Food & Wine
,
Travel + Leisure
,
National Geographic Magazine
, and various magazines and newspapers across Asia. His two restaurants, Soul Food Mahanakorn and Appia, have been praised by the
New York Times
, the
Wall Street Journal
,
Travel + Leisure
, and CNN Travel.
Italian-born chef
Paolo Vitaletti
is the co-founder of Appia with Jarrett Wrisley in Bangkok. As a team, they operate a farm outside of Rome where they will open an inn and restaurant. Paolo also owns Peppina, Bangkok's best Neapolitan pizzeria.
---
Share this Product
---