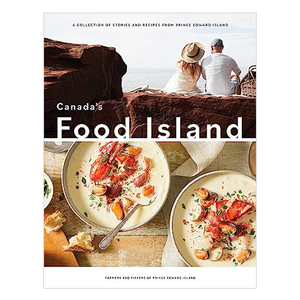 Canada's Food Island: A Collection of Stories and Recipes From Prince Edward Island
Regular price
$38.95
$0.00
Unit price
per
by Farmers and Fishers of Prince Edward Island

A sampling of seasonal recipes from Prince Edward Island and stories about the people, places and local ingredients that inspire them. 
Canada's Food Island invites you to celebrate the Island's farm-to-table cooking and meet the farmers, fishers and artisans who make those delicious dishes possible. From preparing the perfect lobster roll in spring and galettes filled with sweet fresh-picked strawberries in summer to making savory potato pizza in fall and roast turkey with an oyster, bacon and wild mushroom stuffing in mid-winter, you're sure to find a favorite recipe to delight guests and satisfy your own cravings.
Canada's Food Island combines nearly 100 inspired seasonal recipes with homegrown stories and beautiful photographs to capture the essence of the island's unique food culture—a blend of people, place and locally sourced fresh natural ingredients. You'll learn how mussels and oysters are sustainably raised and harvested, why Island beef is so flavorful and what makes wild blueberries so special. Whether you've spent time on Prince Edward Island or not, you'll want to visit these pages again and again to experience a taste of the Island in the comfort of your own kitchen.

Royalties from sales of the book will go to PEI Food Banks with the mission to increase food security for Islanders by supporting Food Banks and the individuals who are in need of their support.

About the Authors: The Farmers and Fishers of Prince Edward Island is a representation of all the hardworking people in the food industry on the Island. Every day they get up before dawn to farm, fish and deliver high quality food to markets around the world. This book allows readers to join them on a year-round journey of life and food on the East Coast which has been proudly labeled Canada's Food Island.
Stephen Harris is an east coast/Toronto-based photographer specializing in food, interiors, and lifestyle stills. He enjoys creative collaboration with clients of all types who seek depth and meaning in photography. When not behind a lens, he is comfortably nested with his wife and kids at their restored farmhouse in Orwell Cove, PEI.

Stuart Hickox is an award-winning social entrepreneur, activist, and writer whose work has been published in 13 languages. In 1995 he planted 8500 trees on a 10-acre clear cut Acadian forest and built a small cabin. His "Walden" became a creative oasis, and a crossroads and safe haven for his children and friends. He currently resides there with his trusty sidekick, Riley corgi.
---
Share this Product
---