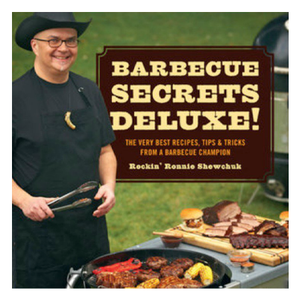 Barbecue Secrets Deluxe!
Regular price
$29.95
$0.00
Unit price
per
by Rockin Ronnie Shewchuk
Rockin' Ronnie Shewchuk is obsessed with outdoor cooking. His enthusiasm for the grill has been called both "contagious" and "evangelical." His wife has even described herself as a "barbecue widow." Now in Barbecue Secrets DELUXE!, Rockin` Ronnie has compiled all the best recipes, tips and insights he has collected on his road to barbecue enlightenment. This essential guide contains over 200 recipes including the best from Ron`s two bestselling books, Barbecue Secrets and Planking Secrets, as well as 50 brand new dishes. It's full of detailed information and guidelines on how to grill, barbecue and plank almost anything. Every experienced backyard cook knows that thicker and juicier is better, and this volume is no exception. Packed with sizzling stories from Ron's time on the international barbecue circuit, comprehensive lists of must-have equipment and even music recommendations, Barbecue Secrets DELUXE! is guaranteed to take your grilling experience to a whole 'nuther level. 
About the author: Ron Shewchuk is never far away from a grill or a smoker, whether he's leading barbecue workshops, appearing as a guest chef on TV, writing food articles, or barbecuing up a storm on the competitive circuit. 
"For me, barbecue is not just a pastime, it's a lifestyle," says Ron. "Barbecue at its best is a spiritual experience, and I like to think of what I do as high ceremonial cooking ... You're not really serious about barbecue until you've slept next to your cooker and used a bag of charcoal as a pillow."
Ronnie was born in Edmonton, Alberta, and trained as a journalist at Carleton University in Ottawa. He now lives with his wife and children in North Vancouver.
---
Share this Product
---