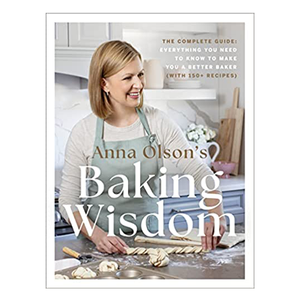 Baking Wisdom: The Complete Guide: Everything You Need to Know to Make You a Better Baker
Regular price
$50.00
$0.00
Unit price
per
by Anna Olson

Inside Baking Wisdom lies the answer to every baking question you've ever had (and many you haven't yet), plus over 150 perfected recipes—both savoury and sweet—for bakers of all skill  levels. Get inside Anna's baking brain, as she shares a career's worth of experience to build a true masterclass in baking. In this incredible baking compendium, you will learn the hows and whys of baking through her flawless techniques, patient advice and literally hundreds of photos. This is an all-encompassing guide, guaranteed to make you a better baker. With recipes including:

PIES & TARTS • PASTRIES • CAKES • CUSTARDS & CREAMS • CONFECTIONS •  COOKIES & BARS • BREADS

Within each chapter, Anna's triple-tested recipes are grouped together by commonly shared technique or principle, so you can see how one foundation recipe can be built upon to create many more complex creations. In every one of her perfected recipes, Anna leads the way with notes of baking wisdom directly included in each recipe's method. And she does this all with one goal in mind: to help you achieve the very best baking results every time.

Baking Wisdom is a must-have collection of baking recipes, techniques and advice, and is Anna's most comprehensive cookbook yet.
About the Author: Anna Olson is a professionally trained chef and the internationally known host of Food Network Canada's Bake with Anna Olson, as well as the Oh Yum with Anna Olson channel on YouTube. She is the author of ten bestselling and award-winning cookbooks, including Baking Day with Anna Olson and Set for the Holidays with Anna Olson. Anna also has her own bakeware line, Anna Olson Kitchen. She lives in Ontario, Canada, with her husband, Michael.
---
Share this Product
---